E-commerce SEO: how to pick profitable keywords for your website?
Nowadays, many retailers are conscious that add a digital commerce strategy to their current business model is a great opportunity to broaden their target geographically and to potentially reach lots of future buyers.
Building an attractive e-commerce website and maintain it properly isn't the key that will make your online business successful, but building a solid SEO strategy that will drive a fair amount of qualified traffic to each of your products page, is an essential key to success.
Targeting the wrong keywords can ruin your campaign, simply because your website will drag low quality traffic and the conversion rate will be low which will result to bad results in terms of sales.
In this article, I will give you the few basics tips that will help you to select the right and profitable keywords for your e-commerce website.
Searching for good keywords
Finding the right keywords for your homepage and for each of your products page and category pages is a time consuming task but must be done carefully. Unlike corporate websites, online shops have the power to own specific product pages that have the potential to get very qualified traffic, people who are not interested in your shop but rather in the products you offer.
That's the reason why it is very important to properly pick the keywords which will exactly describe each of your products.
HIGH RELEVANCY + DECENT SEARCH VOLUME + LOW RANKING DIFFICULTY = SUCCESSFUL KEYWORDS
You need to find keywords that are very relevant to each of your product and to your brand. Once you have selected those relevant keywords, you have to keep the ones with higher exact match for local search volume and then check the level of competition on each of those selected keywords.
You can use Google's Adwords Keyword planner tool along with Moz's keyword tool.
Personally I go with Long Tail Pro Platinum because it's a powerful tool that gathers all what I need in one place for an optimal Keywords Research.
Let's take an example: You make and sell "Tailor made shirt" and you need SEO for your online shop. It means you need to:
Find couple of primary keywords for your Homepage around "tailor made shirt" (I suggest ONE or two primary keywords for On-page SEO and few more for link building – internal links and few back links),
Find long tail keywords (minimum 3 words per combination of keywords) for each of your category of shirt (it will also give you ideas for potential new categories of product to develop in your shop, based on search trends and competitiveness)
Find even longer tail keywords (minimum 5 words) for each of your product pages.
The longer a keyword is (or combination of keywords), the more qualified the traffic is. But usually, the more qualified the traffic is, the lower the search volume is. You understand now that the main point is to find for each of your page the right balance that will drag enough qualified traffic in order to get the best compromise and get more sales in the future.
Step 1– Finding keywords for the homepage based on "Tailor made shirt"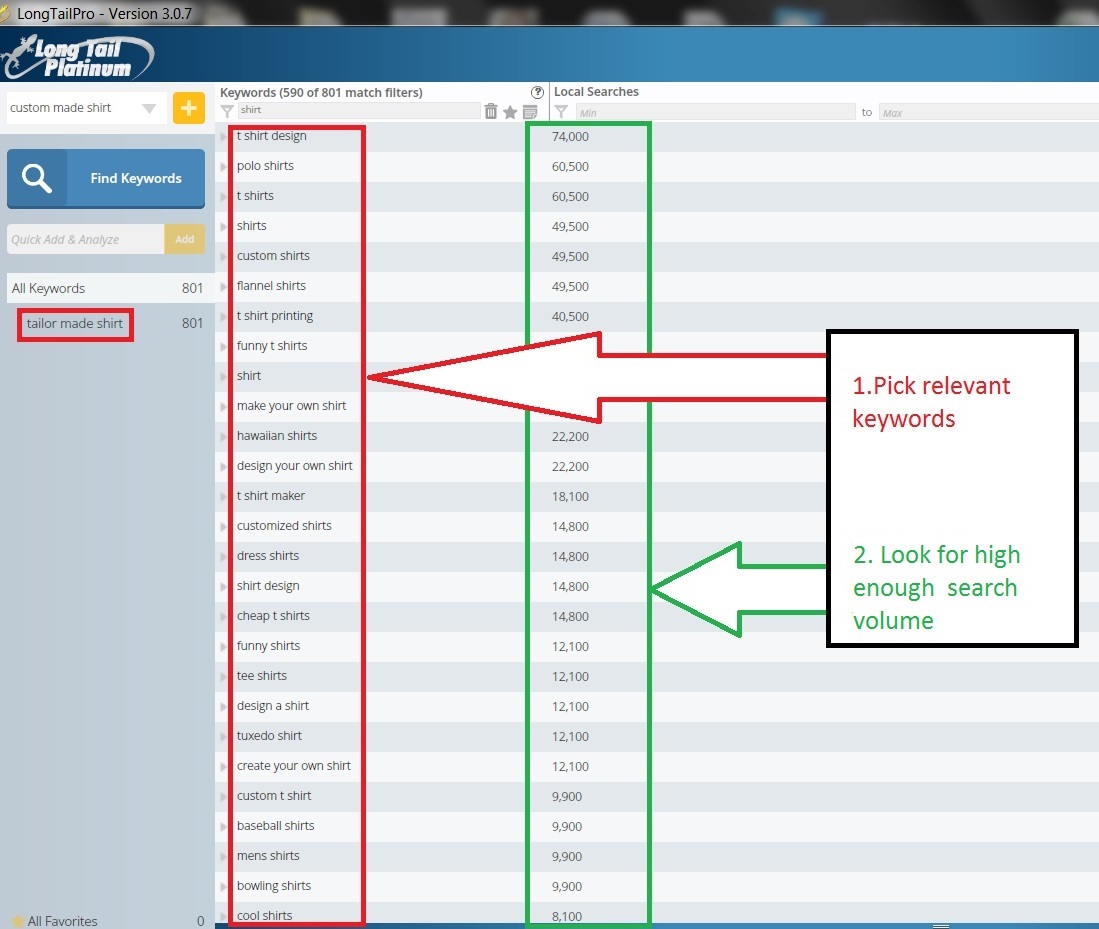 I suggest sorting the column "local searches" from the biggest to the smallest and selecting each keyword you think is relevant to your homepage (means to your business). Every time you select one keyword, you then can click on "Keyword competitiveness" (Long tail pro integrate Moz's keyword tool) to see the level of competition. I personally search for keywords having a Keyword competitiveness below 40 for my websites' homepage otherwise it takes quite a while to rank on the first page of Google result page (Serp).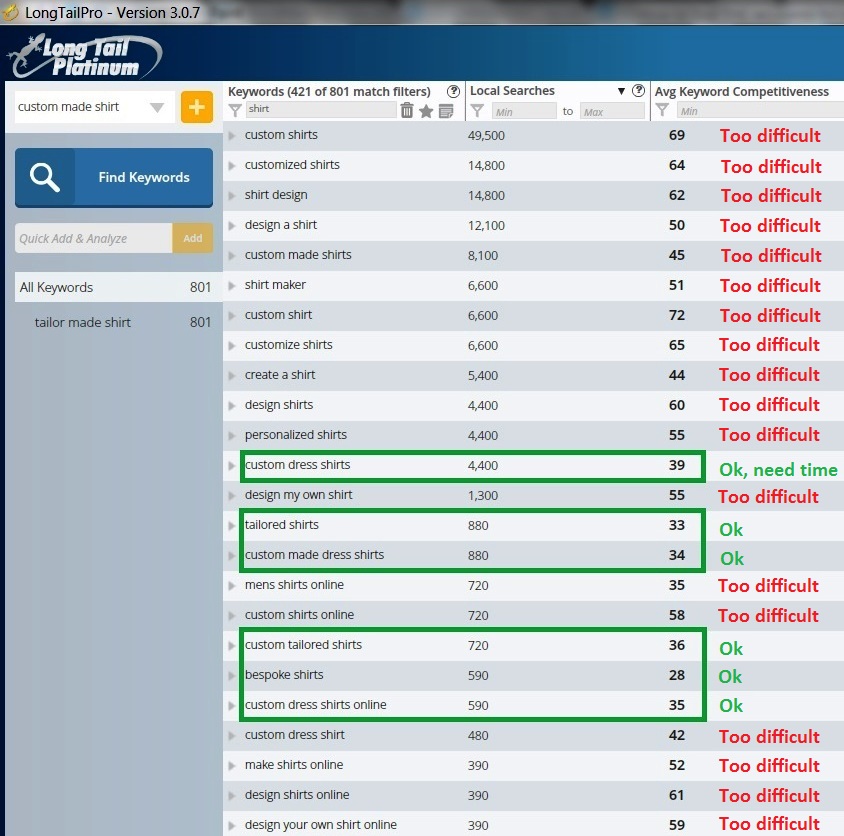 Conclusion
My first round selection to optimize my homepage, will include the following keywords:
"Custom dress shirts",
"tailored shirts",
"custom made dress shirts",
"custom tailored shirts",
"bespoke shirts"
"custom dress shirts online"
What I want to do now is the check the Top 10 competitors for each of those keywords, to see if it's really doable or not. Let's do it for example with Custom dress shirts
Below is the TOP 10 websites showing up for the search "custom dress shirts" in Google Serps (1st page)

I classified in 4 colors the level of difficulty for competing with the top 10 websites on the most important metrics.  Green = easy, Orange = need time but doable, Red = difficult, Black = Almost Impossible.
At first glance, I go to check the SITE AGE column, and I can see that 4 of them are Black as they have been online for over 10 years. I also can see that all of those 4 websites have the words "custom", "dress" and "shirts" in their website's TITLE, some with Exact match, some not. But anyways, I don't even think about competing with them. I don't really want to fight neither with websites whose SITE AGE is RED, especially because they also have a Very High Domain Authority and all the targeted keywords in their page's Title.
The fifth website is very competitive with an age of almost 17 years old, page Rank = 5, very High Domain name (68), more than 2000 back links, very high Page Authority (52) and finally an Exact Match keyword "Custom Dress Shirts", with right order and appearing in first position in the Title. So, by the way, why does this website rank only 5?

After analysis : Because there is nowhere in their landing page the targeted keyword "Custom dress shirts", so On-page SEO on that page is not properly done (except the TITLE TAG but it's far from being enough).
The SPAM Score is 4 (the page got 4 total SPAM flags, which is not great)
Then, I check the columns "Page Authority" along with "Domain Authority", 3 websites have a very high Page Authority, and 3 others a have very high Domain Authority. I don't expect to rank better than them, except if my website is already popular and authoritative.
Should I select "Custom dress shirts" as a keyword for my website's homepage?
If my e-commerce website is not very popular and is less than 5 years old, I may expect (with a good on-page and off-page seo work) rank at the first page of Google Search, but no more than 9th or 10th.
If my website is either around 10 years old or is quite popular in its industry with a good Page Authority and Domain Authority, I may expect (with an intensive work on on-page and off-page SEO), rank in the TOP 5.
You need to go through that process with each of the selected keywords, and find out whether you have a chance or not to rank well for each keyword.
You need, of course, to take into consideration the current situation of your e-commerce website (its Domain Authority, Site age, Home page Authority) and compare it with the TOP 10 competitors.
But if I rank 9th, what traffic will I drive every month to my Homepage for the keyword "Custom dress shirts"?
The answer is (theoretically) around 2.6% x 4 400 = 115 visits a month from Google search Engine Only.
Given that in my opinion we cannot target more competitive keywords and that our website will get more and more authoritative in the future, I would include that keyword in my list for primary keyword.
Moreover, we will optimize each of our category and product pages which will each of them drag potential buyers, so optimizing my homepage is not my only goal.
STEP 2 – Finding keywords for your categories & product pages
As we are searching for right keywords for your categories & products you don't need to focus anymore on "tailor" or "custom". We will simply base our new search on "Shirt", so we will have a clear idea of what type of shirts web users want to buy.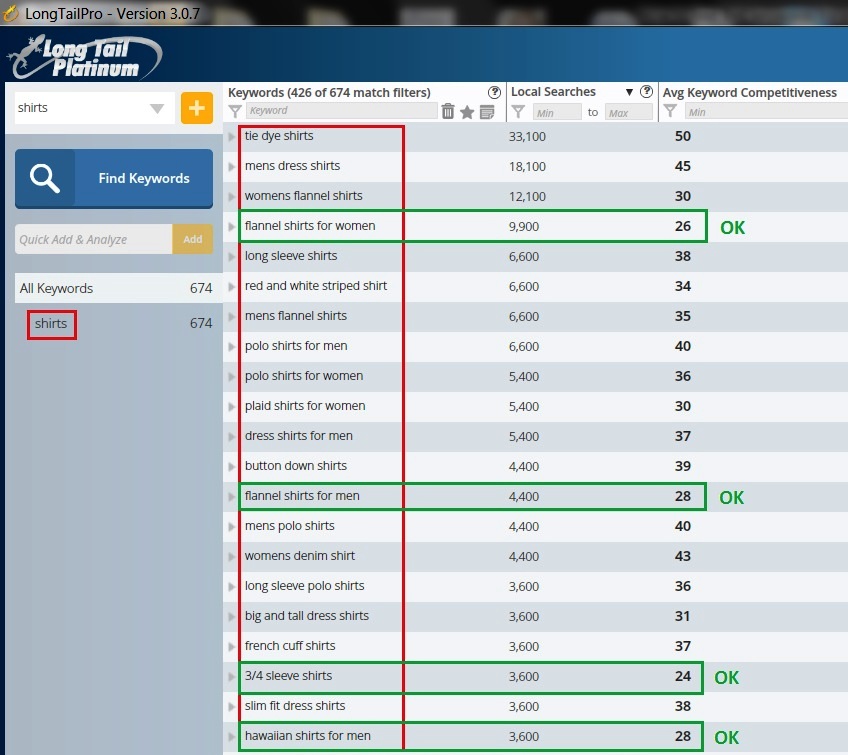 Among the results with highest Local searches volume, I am going to pick the keywords with an Average Keyword Competitiveness below 30.
We have for now:
Flannel shirts for women
Flannel shirts for men
¾ sleeve shirts
Slim fit dress shirts
Hawaiian shirts for men
You need to continue the process until you have selected all keywords that are relevant to your products & categories following the same principles.
STEP 3 – Finding keywords for your blog
Creating a blog is a great opportunity for ranking your e-commerce website for many other long tail keywords that couldn't be included in your main website. Long tail keywords are keywords composed of more than 3 words (for example: long shirts to wear with leggings).
Finding the right combination of keywords on each of your blog post will drive as much traffic to your website as you would have with 1 large keyword.
That is the reason why doing a proper keyword research up front and build content around those terms is extremely important to your online shop then you will find soon your website ranking for those long tail keywords. Selecting keywords that are too broad and very competitive will never help your website rank because the competition is too fierce.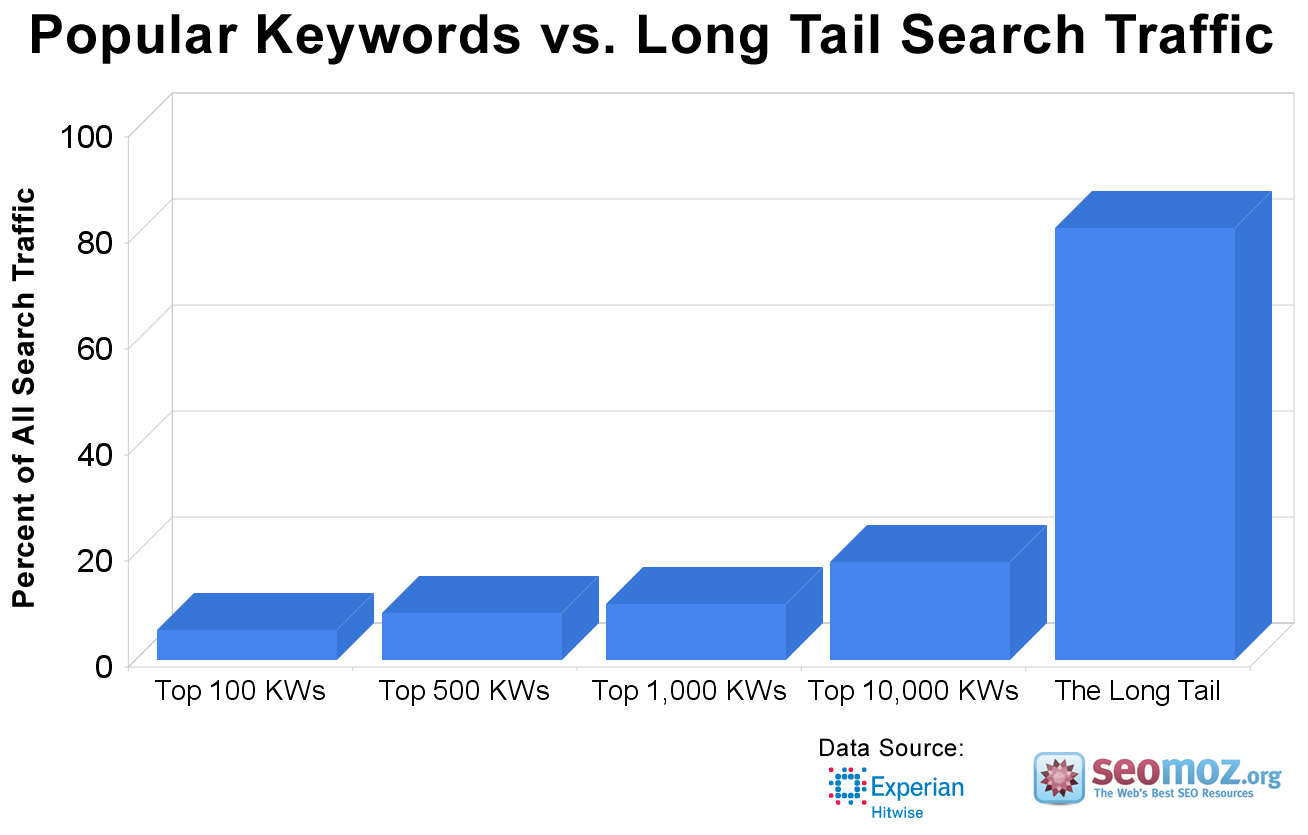 As you can see on the figure above (and according to Moz), 70% of all search traffic is Long tail search traffic which represents hundreds of millions of unique searches performed a few times in a given day.
With this in mind, you can understand that you need to follow a long tail keywords strategy but with high relevancy only. You need to focus only on keywords that have low keyword competitiveness.
Moreover, you must write great content that offers a real value to readers in order to be read and shared.
Notice: It is important that each page of your website focuses on a different keyword. You have to avoid what we call "keyword cannibalization". If multiple pages have the same theme with the same keywords, Search engines won't understand which pages is supposed to be the one ranking for a given keyword and it will be confusing for them, so of course it reduces your chance to drag traffic for that particular keyword.
In the next article we will see how to organize and fully optimize a e-commerce website's structure.
And you, what is your methodology for keywords research? Please comment and share your thoughts!