Before starting, here is a guide on the good practices of SEO in China and the differences compared to SEO in the West.
First question : What is SEO?
SEO (Search Engine Optimisation) or more simply called natural indexing, allows to upgrade your visibility on the Internet. That means that you will adjust a few elements of your website such as HTML tags, text, meta… in order to help the understanding of the content of your webpages by search engines.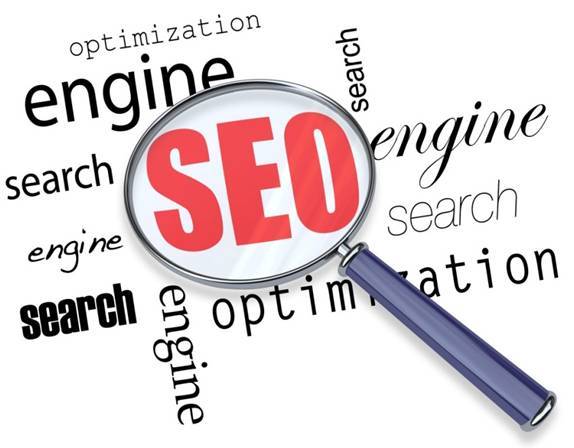 This one is really useful for all our approaches to doing business because it permits to rise quality traffic, so its inquiries and this way to create relations.
SEO made in China is different from the one made in the West. Indeed, in order to understand the Chinese SEO, you should first understand the Chinese market which is radically different from what we can find in the West.
A few figures about the Chinese Internet  :
–  591 million of users (on computers).
–  858 million of mobile users who have access to Internet of their smartphone.
–  Google doesn't exist.
Chinese Search Engines
Do not forget that we are talking about SEO in China, therefore about the Chinese Internet. Here is the Chinese search engines' market shares representation.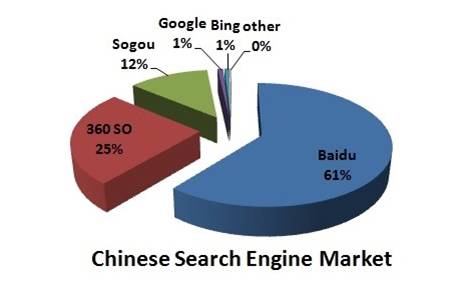 The first from a long time, Baidu which is losing a huge amount of market shares for the last couple of years. It lost about 20% of its traffic in just 3 years.
Next, the second is 360 SO which made a good start on the Chinese Internet.
Followed by Sogou, which also overcame a strong growth.
Be careful about censored websites
Be careful about the Chinese Internet censorship, Facebook, Twitter and even YouTube do not exist in China. You have to adapt to Chinese social networks such as Youku (a video hosting platform) or Sina Weibo (a microblogging platform). You have to learn how to use those social networks in order to adapt your research strategy accordingly.
Do not use words censored by the state party on your website otherwise they will blacklist you or you will be badly referenced.
Example of censored words "Chinese people tell the truth" or again "North Korea falls out with China".
Websites in Chinese
93% of the Chinese population only speak Chinese, plus Baidu and SO 360 give a high priority to 100% Chinese websites. You will have to adapt to your future consumers.
Your website has to be completely written in Mandarin and a good quality Mandarin, not an approximate translation from Reverso or Google Translate.
The other important point that Chinese search engines favors are the extensions at the end of your website URLs (.com, .fr, .eu, .cn). They prefer websites that end by .cn et that are hosted in China. Websites hosted abroad harvest a strong malus. The other advantage is the loading time of your website, 10 times faster when it's hosted in China.
To get this .cn extension, it's not easy because your website has to be register in a Chinese company.
The content is important
Chinese search engines expect a lot from content, often updating to obtain a good referencing. Indeed, you'll have to post new content non stop and to update your website.
Baidu sanctions just a little the duplicate content unlike Google, which punish it severely. Google prefers quality and Baidu prefers quantity.
Backlink usage
Baidu developed an algorithm which weight links… however, in practice, it does not take into account small links that come from small websites. Thus, in reality, these websites have very little chance of appearing thanks to key words with a strong traffic. There are a lot of technical differences between the giant Google present in the West and Baidu in China.
Baidu Advertising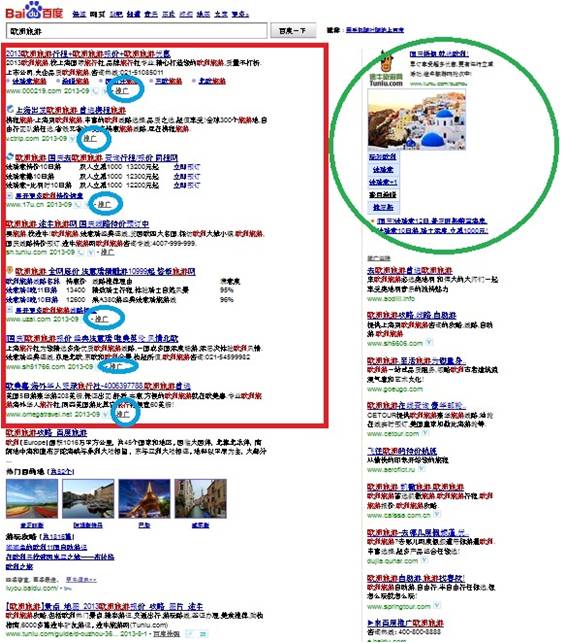 Baidu represents 60% of the requests, so your website has to be optimized consequently.
About the above example, the red frame represents Baidu Advertising (Baidu Pay Per Click system). This one represent the 8 first results. You have two options facing you, either to do SEM or to choose longer requests but not monopolized by Baidu advertisement.
Baidu predominates research
Baidu covers a results majority with its different websites. The first next results will be Baidu websites, Baidu's Wikipedia, Baidu Shopping or Baidu Tieba.
For example, if we analyze the key word "boat" (船), we will find in order :
1- Baidu Image (Baike)
2- Baidu Baike (Wikipedia equivalent)
3- Baidu Dictionnary
4- Baidu Baike (Wikipedia equivalent)
5- Baidu Tieda
This example shows us that Baidu controls everything, we can see appearing a result that does not belong to Baidu only at the 6th position.
Finally, the last important point…
Site responsive design
Just like I mentioned earlier, there are no less than 858 million of people having access to Internet on their smartphone.
It is so essential to have a website well adapted to smartphone, tablets and computers, in order to properly display the content of your pages.
To conclude
You have to adapt to the Chinese culture, and this way you'll understand lots of things about Chinese Internet and so about SEO. The road ahead is still long before your website appears in the first position of certain critical researches, but if you respect these points, you should succeed.
Good luck !
FURTHER READING: